Profil
The undergraduate degree in English Literature offers 146 semester credit courses in the subject areas of English Literature and Language.
The courses are tailored to equip students with the core knowledge in Literature Studies and Applied English Linguistics and prepare them to meet the challenges in the workplace that requires strong mastery of English, academic, and technical skills.
"Where the cultivation of academic and technical skills is at the heart of a language learning program"
Three academic options offered including Creative Writing, Teaching English for Speakers of Other Languages (TESOL), and Translation/Interpreting.
Minor and elective courses in English for Business Purposes will also supplement the students with the skills needed to work in business areas.
Berita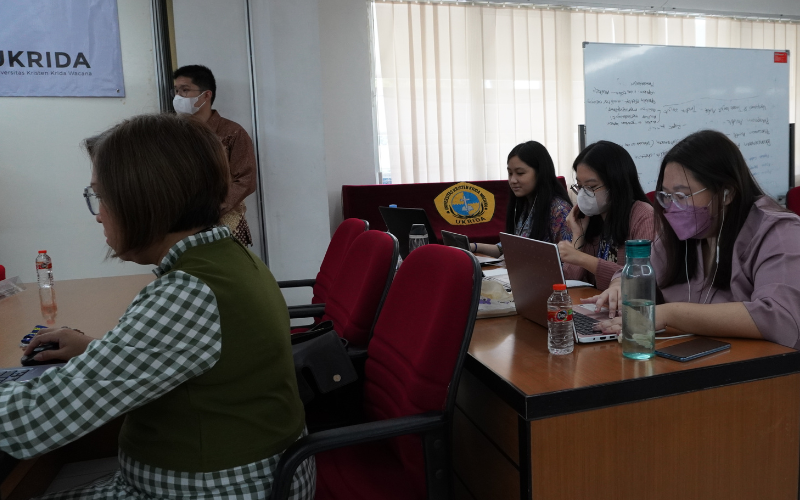 01 Desember 2022
Program Studi Sastra Inggris Fakultas Ilmu Sosial dan Humaniora Ukrida mengadakan Hybrid Workshop untuk siswa, mahasiswa, guru, serta dosen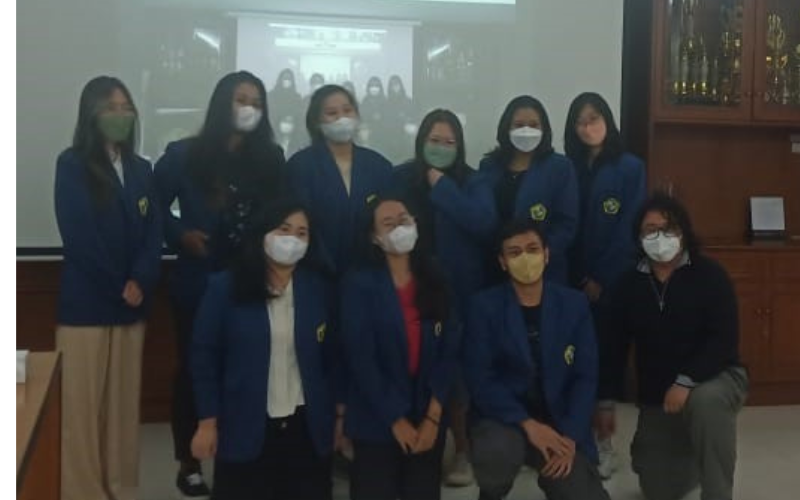 30 September 2022
Pencapaian luar biasa kembali diraih oleh mahasiswa Ukrida dalam program International Outbound Student di Eastern Samar State University (ESSU), Philippines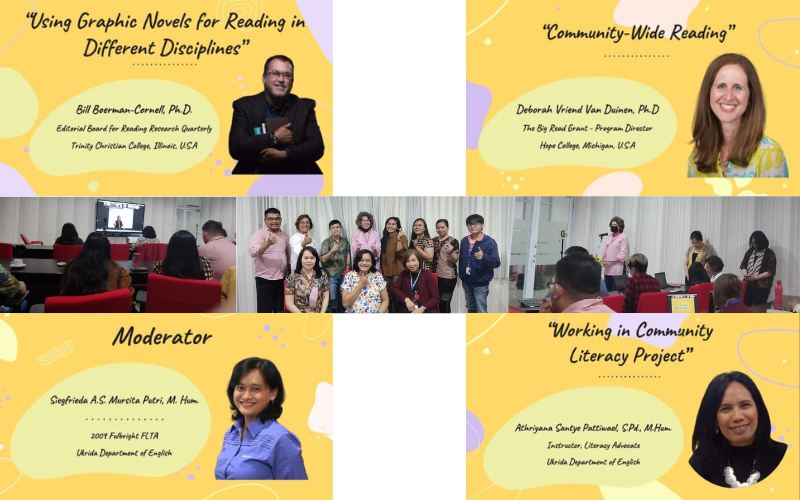 30 Agustus 2022
UKRIDA mengadakan Webinar dengan topik "Teacher Capacity Building Program on New Literacies & Media"
Visi
"To be an Outstanding Department of English in Indonesia based on Christian Values"
Misi
To offer high standard language and literature education, research, and community services
To provide students faculty the opportunity to experience spiritual, personal, and professional growth
To prepare students for their success in future careers and graduate study in English and for lifelong learning
Keunggulan
Soft-skills programs aim at fostering character building and personality development.
Extracurricular activities are in the areas of student's interests such as sport, music and art, and religious fellowship.
Internship programs offer students practical experiences related to their academic options and career interest.
The student exchange program enriches students with cross-cultural friendships and international work experience.
Workshops and conferences update students with the latest development in the field of English Language and Literature.
Pull Out Program personalizes different levels of students in English skill classes in semester II and III.
UDE Global Skills equip students with more additional global skills such as critical thinking, public speaking, and professional skills and certification in TESOL, Creative Writing, and Translation.
UDE Small Talk offers students with academic and professional sharing from UDE faculty members and experts.
Students Clubs such as Drama Club, Public Speaking, and Creative Writing, which facilitate students to develop and sharpen their English skills and interests.
Field Trips such as Theater Visit, Yogyakarta Visit, which enrich students with an academic, social, professional, and cultural experience.
3-in-1 Field Trip to Yogyakarta the students experience 3 in 1 programs including company visit (translation agencies), script writing workshop by Institut Seni Indonesia (ISI), and Community Service program (Literacy for Children, in collaboration with Dombi Kids).
Journalistic Coaching by Metro TV, which sharpens students' potential in creative writing.
Testimoni Alumni
"I was the first batch of UDE student in 2014 and I was one of the first batch of UDE graduates in 2018. Before graduation, I was accepted as an Operational Staff of tracking administration in a private logistic company located in Tanjung Priok. The impression of being Ukridian is out of the world for me. I learn how to see the bigger picture of everything I face everyday. Besides, the value of integrity is also something I obtained while learning at UDE. The environment was also very friendly, communication between lecturers and students are maintained not only inside the class, but also in my daily life as a student. The most valuable experience that helped me throughout my career life is integrity. Through integrity, I learn to do things the at the very best that I'm capable of. It helps me to work profesionally and adapt faster in my workplace. Paint your purpose with passion and try out new things, life is too short to hold yourself back."
Sebastian Karsten
UDE 2014
Testimoni Alumni
Being a second-batch student in UKRIDA Department of English (UDE) has been so unforgettable. During my 3.5 years of learning in UDE, the lecturers were absolutely cooperative and inspiring. They made me more motivated to do independent learning and gain insights by being active during classes. UDE provided me an opportunity to broaden my experiences through variative learning methods, projects, and two-month comprehensive internship in the Ministry of Foreign Affairs. In addition, UDE helped me to discover my passion for life as an English translator. UDE is not just a place to learn, but also a warm home where I found a family inside. Now, I am working as a professional English translator in a reputable financial company at the Wall Street of Indonesia – Sudirman Central Business District. Enhanced hands-on skills and knowledge I received from UDE have made me who I am. Day-to-day article translations and consecutive interpreting depict a major part of my working life. UDE, with its balanced portion of theories and real practices, has empowered me to be confident during work.
Martha
UDE 2015
Previous
Next
Fasilitas
Students will benefit from access to the following facilities:
Kurikulum
General Courses
Leadership
Critical and Creative Inquiry
Enterpreneurship
English for Business Purposes
Cross Cultural Understanding
Service Learning
Civics
Religion
Bahasa Indonesia
Creative Writing
Creative Writing I-II
Screenwriting and Playwriting
Creative Writing Internship
Introduction to Creative Writing
Introduction to Literature
Literary Genres
Foundations of Western Culture and Literature
TESOL
ESL Teacher Knowledge
World Englishes and Language Teaching
TESOL Internship
Curriculum and Technology Design
Introduction to TESOL
Translation/Interpreting
Translation and Interpreting I-II
Multimodal Translation
Translation and Interpreting Internship
Introduction to Translation and Interpreting
Elective Courses
Extensive Reading
Computer-Assisted Language Learning
Business Communication and Negotiation
Foreign Languages
Content and Language Integrated Learning
Literary Translation
Introduction to Corpus Linguistics
English for Journalistics Writing
Translation of Legal Documents
English for Tourism and Hospitality
Linguistics Courses
Introduction to Linguistics
Morphology and Syntax
Phonetics and Phonology
Pragmatics and Semantics
Research Courses
Research Methods in Language and Literature
Seminar of Thesis Proposal
Thesis
English Skills Courses
Speaking and Listening I-III
Reading and Writing I-III
Vocabulary and Pronunciation
English Grammar
Integrated English Skills
Staf Dosen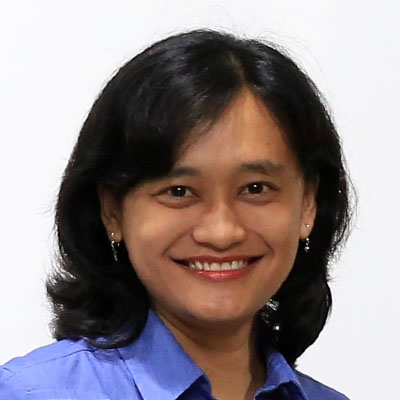 Ketua Program Studi Sastra Inggris
Siegfrieda Alberti Shinta Mursita Putri, S.S., M.Hum.
Lecturer earned her bachelor's and master's degrees in English Language Studies from Sanata Dharma University, Yogyakarta. She was a Fulbright visiting scholar at the Paul H. Nitze School of Advanced International Studies (SAIS) Johns Hopkins University, Washington, D.C. Her research focuses on Translation, Discourse Analysis, and Sociolingistics.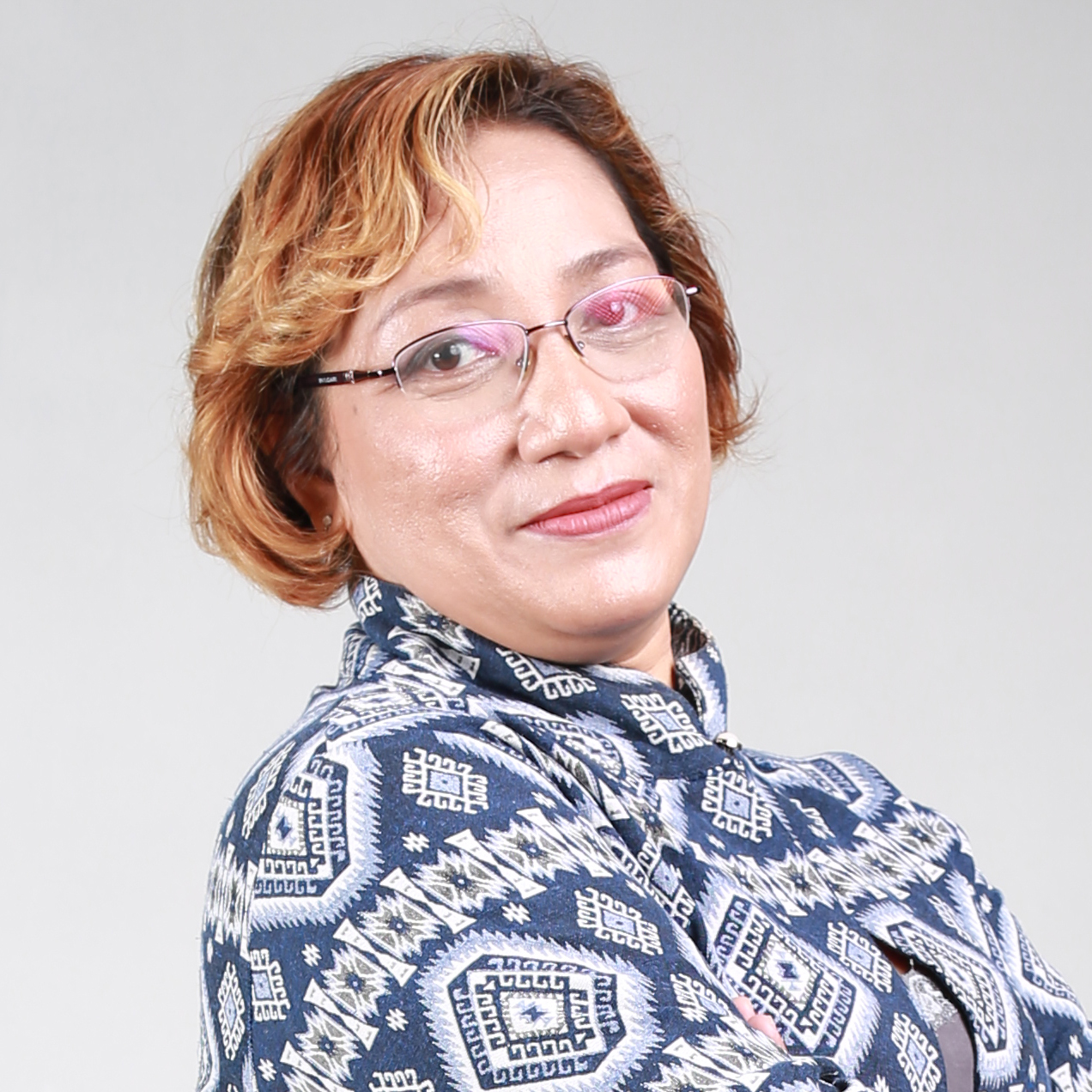 Lecturer
Emanuella C. Natalia M, S. Pd., M. Hum.
Earned her bachelor's degree in English Education at Universitas Sanata Dharma, Yogyakarta, and her master's degree in English Language Studies from Universitas Sanata Dharma, Yogyakarta. Her research interest focuses on Cultural and Film Studies.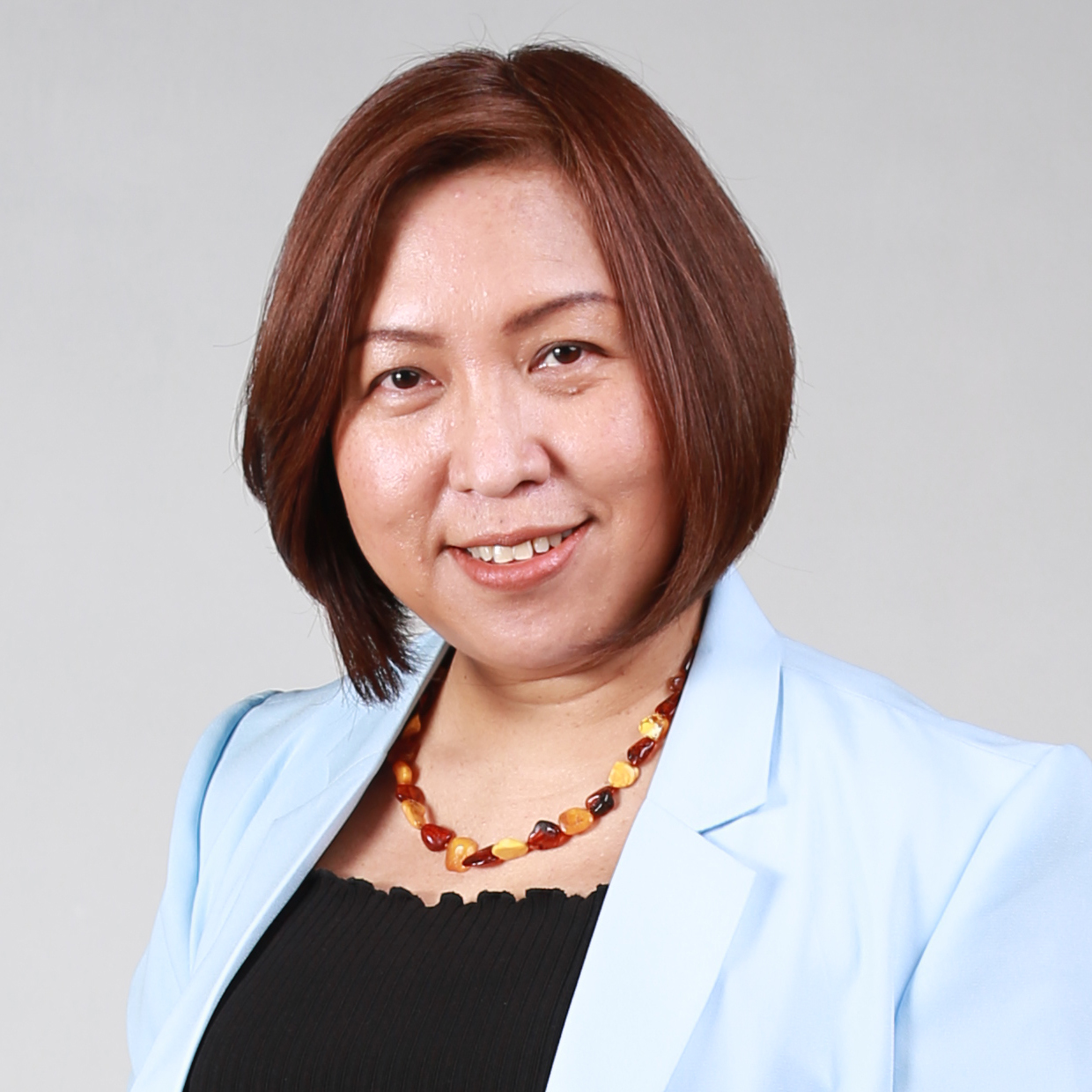 Senior Lecturer
Ira Rasikawati, Ph.D.
Graduated from Petra Christian University, Surabaya and completed a teacher training and research program at Chiba University, Japan. She earned her master degree in Applied English Linguistics at Atmajaya Catholic University, Jakarta. Her research interests include Second Language Reading/Writing and Second Language Learning. She completed her Ph.D. in Education (Literacy Concentration) at Seattle Pacific University, USA.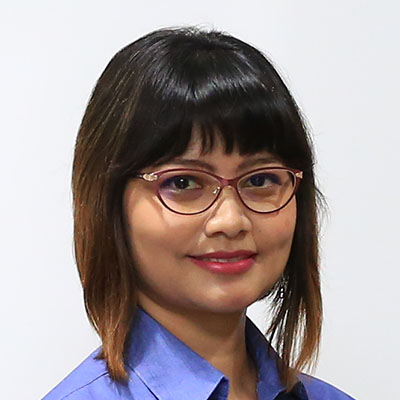 Senior Lecturer
Ignasia Yuyun Y, S.Pd., M.Pd.
Earned her bachelor's degree in English Education at Universitas Sanata Dharma Yogyakarta and completed her master's degree in English Education at Universitas Pendidikan Indonesia (UPI), Bandung. Her research is in the field of Technology Enhanced Language Learning, Applied Linguistics, and Curriculum & Technology Design. She is a nationally certified lecturer in English Education.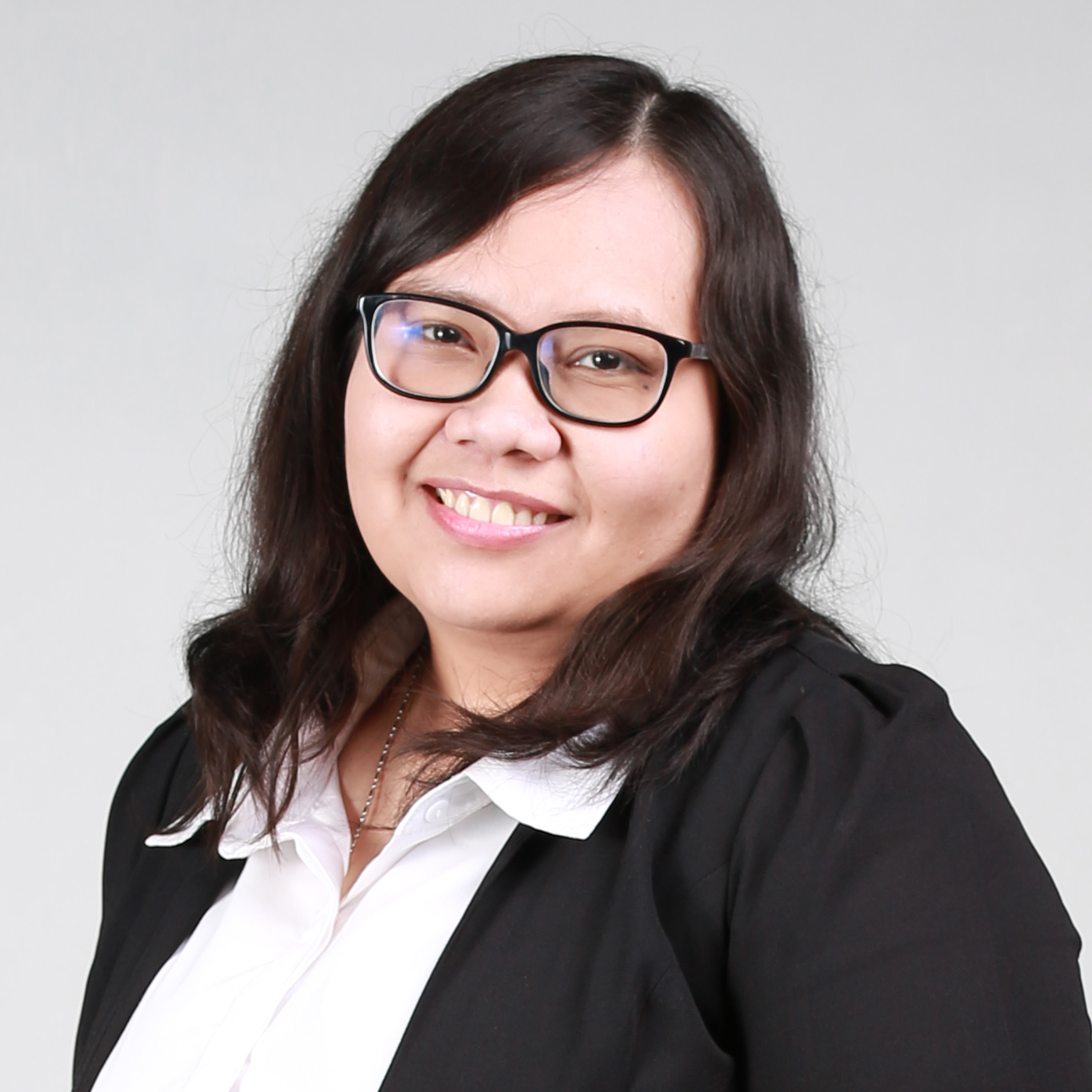 Hanna Juliaty, S.S., M.A.
Graduated From Gadjah Mada University, Yogyakarta and earned her M.A in Education (TEFL) from the University of Birmingham, UK. Her main research interests are Learner's Autonomy, Pedagogical Practices in ESL/EFL Classrooms, and Teacher's Professional Development. She is a nationally certified lecturer in English Language and Literature.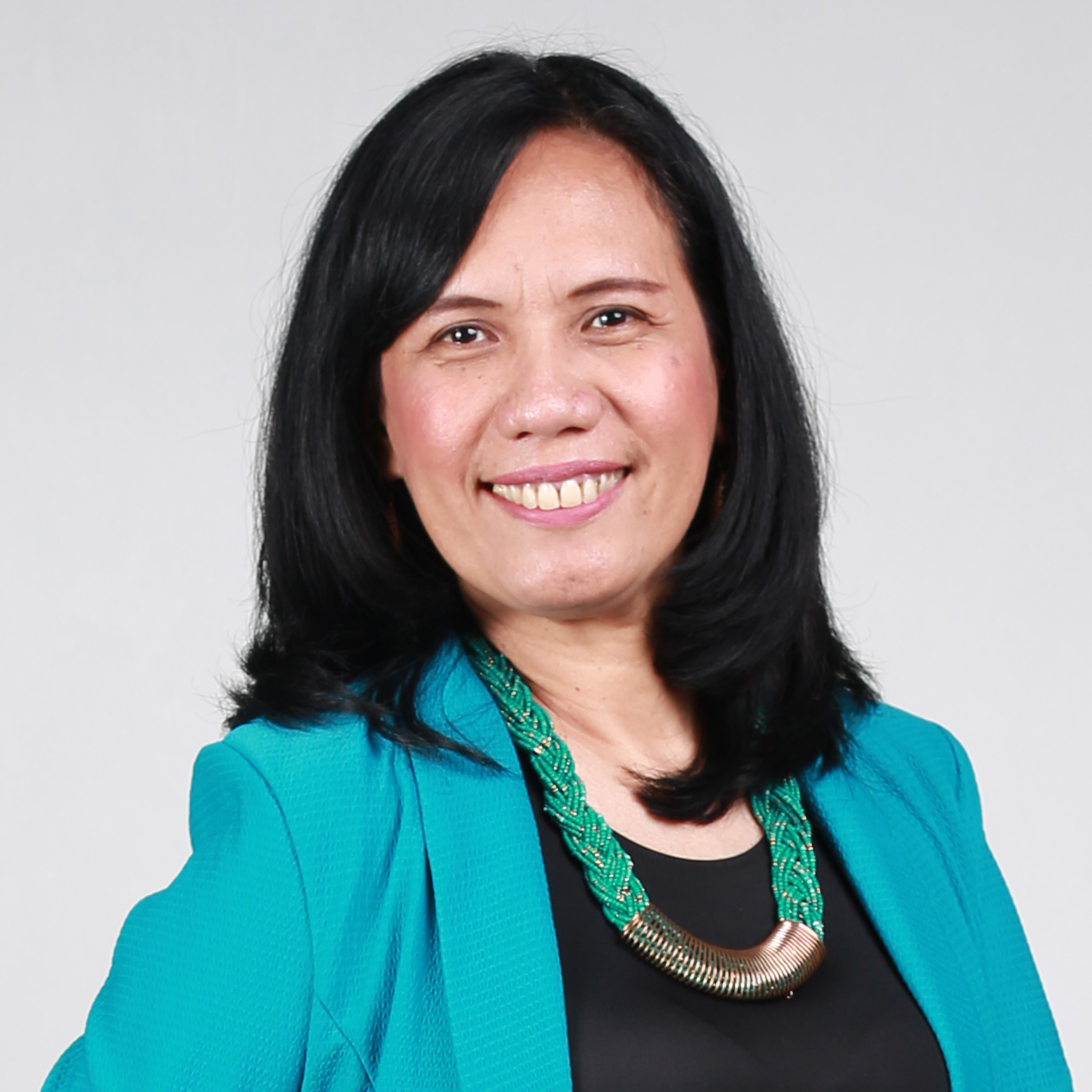 Lecturer
Athriyana Santye Pattiwael, S.Pd., M.Hum.
Earned her bachelor's degree in English Education at Universitas Pattimura, Ambon and completed her master's degree in English Language Studies at Universitas Sanata Dharma, Yogyakarta. Her research interests are in the field of Cultural Studies, Translation, and Applied Linguistics. She is a nationally certified lecturer in English Education.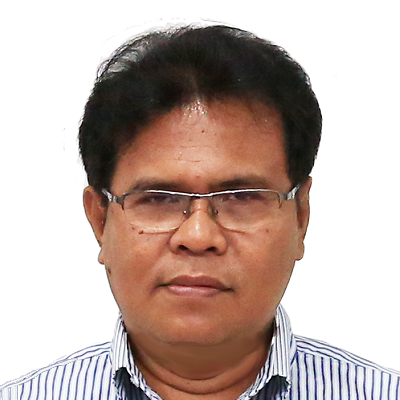 Lecturer
Didi Sulistiyono, S. S., M. Hum.
Graduated from Universitas Negeri Sebelas Maret, Solo and earned his master degree in Applied English Linguistics at Universitas Katolik Atmajaya, Jakarta. His research interests are Translations, Applied Linguistics, Corpus Studies, and Journalism.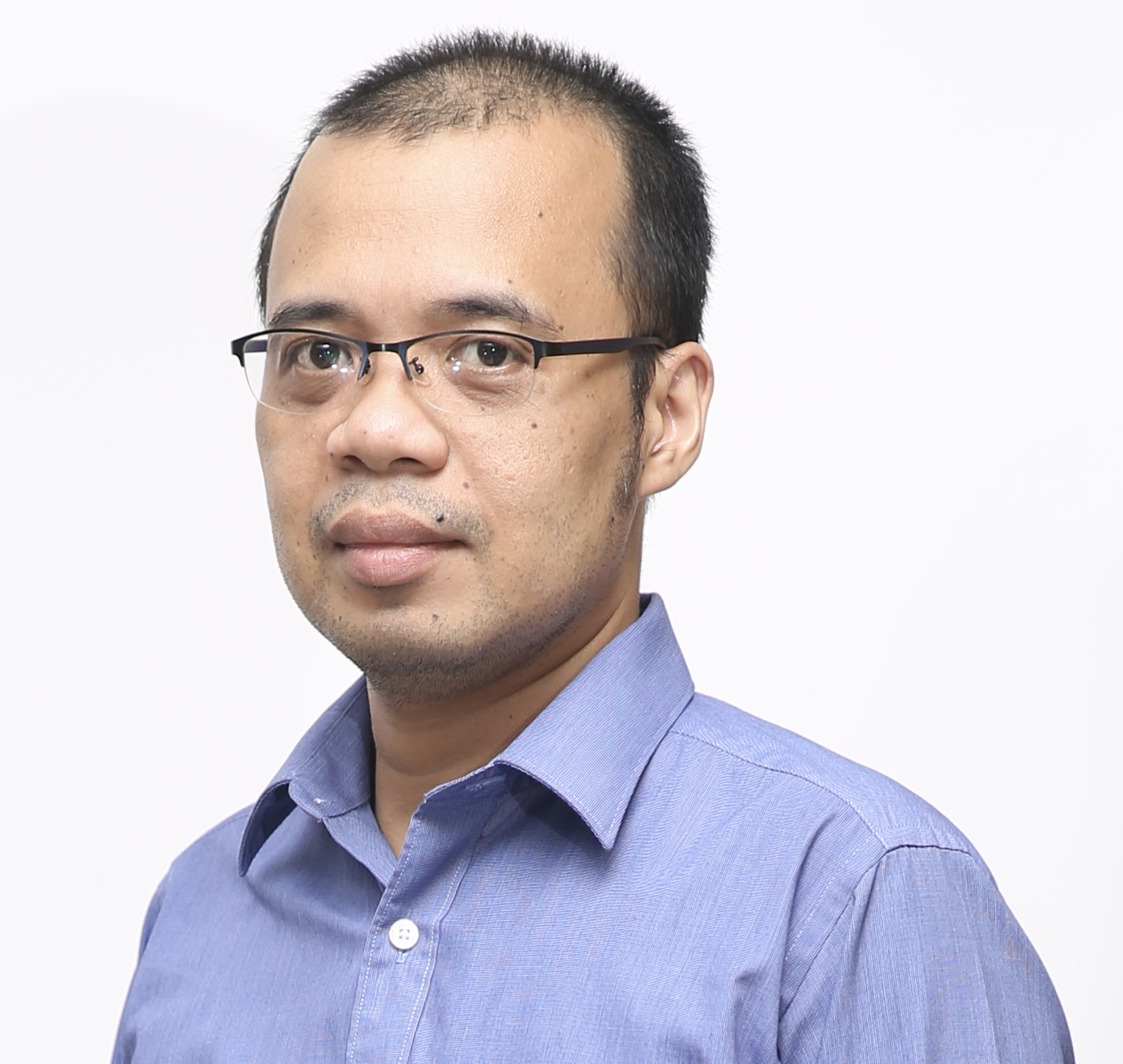 Lecturer
Ferdinan Okki Kurniawan, Ph. D.
He completed his Ph.D. in linguistics from Cornell University (USA) and finished his M.A. in linguistics from Eastern Michigan University (USA), and bachelor's degree from the Christian University of Indonesia. His linguistic interest is interdisciplinary as it combines a number of subfields of linguistics such as phonetics/phonology, speech corpora, speech processing, language variation, and language change.
Kontak
Program Studi Sastra Inggris
Universitas Kristen Krida Wacana
Fakultas Ilmu Sosial dan Humaniora
Jl. Tanjung Duren Raya No. 4
Jakarta Barat 11470
+62 21 566 6952
ude@ukrida.ac.id